PP interlocking tiles are made of high quality of PP (Polypropylene) Material,
Interlocking tiles are connected by a unique lock, which is very simple to install and can be removed easily.
The tiles can be locked tightly enough to form a solid surface. Easy to install, no need adhesive
pp interlock flooring can be used as the surface of a basketball court, tennis court, aerobics court, handball court, volleyball court, badminton court, roller skating rink, children playground, and other sports court.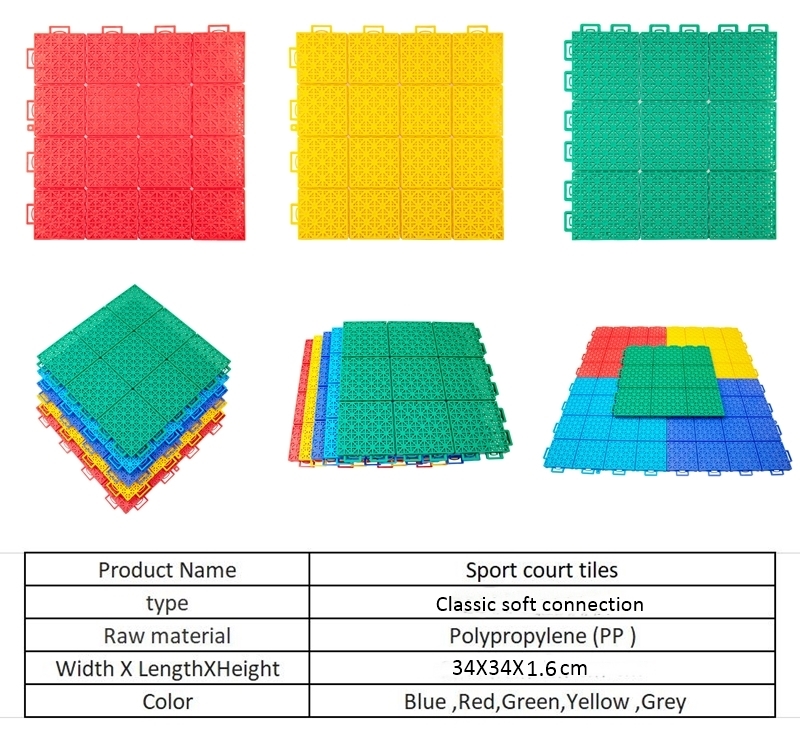 Feature:
No use of glues or other fixing materials.
Applicable on any solid surface.
Flexibility and Mobility of PP tiles Surface
Non-Toxic
Installation: Easy to install, no need adhesive
Easily portable.
Very low maintenance cost
UV-protection for direct sun exposure and can withstand wet weather conditions.
Installation:
Should install a solo floor, then install surrounding edge and corner, the solo floor is connected with each other by pin-hole, In order to make different solo floor combine with each other very well, should use rubber mallet knock the seam.
The base requirement of the construction:
The surface of the ground should be flat (use 3mm ruler the gap under 3mm), firm (keep long service life, not out of shape ), no need waterproof work, could be 1cm crack.
We are a professional supplier and exporter of PP interlock court tiles in China.
Our products are popular at oversea market and exported to 60+ Countries
Our PP interlock court tiles are High Quality & Competitive Prices ,
If you need to purchase PP interlock court tiles in your projects or you want to do the business of PP interlock court tiles,
please inquiry us online Now!Good price for your reference!
Free samples can be supplied for you to check our quality!
Application Areas:
Outdoor Basketball court
Tennis
Indoor Outdoor Sports
Multipurpose Sports
Multi-Court Sports
Kindergarten Flooring
Outdoor badminton