PP interlocking tiles are made of high quality of PP (Polypropylene) Material,
Interlocking tiles are connected by a unique lock, which is very simple to install and can be removed easily.
The tiles can be locked tightly enough to form a solid surface. Easy to install, no need adhesive
pp interlock flooring can be used as the surface of a basketball court, tennis court, aerobics court, handball court, volleyball court, badminton court, roller skating rink, children playground, and other sports court.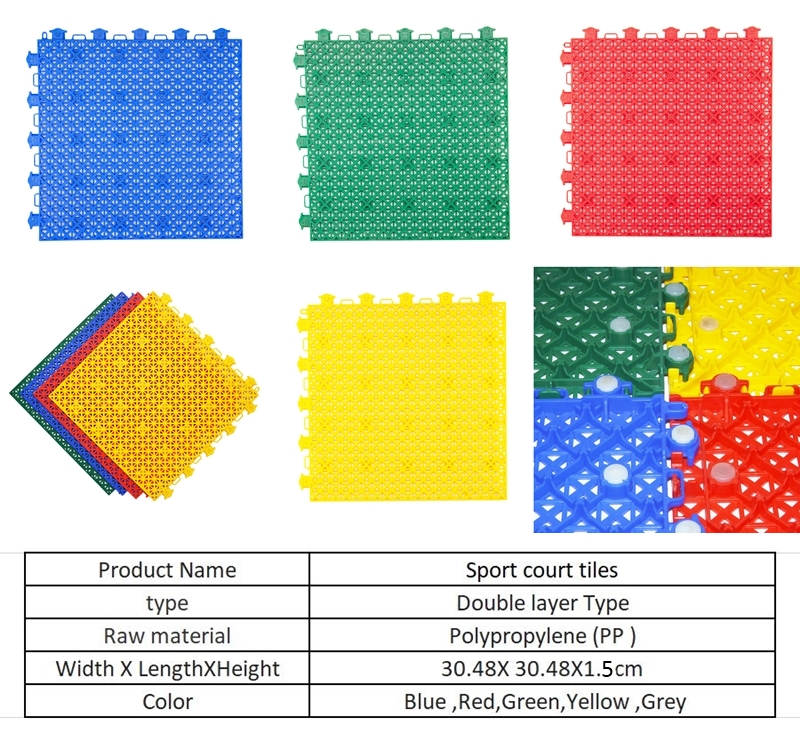 Feature:
No use of glues or other fixing materials.
Applicable on any solid surface.
Flexibility and Mobility of PP tiles Surface
Non-Toxic
Installation: Easy to install, no need adhesive
Easily portable.
Very low maintenance cost
UV-protection for direct sun exposure and can withstand wet weather conditions.
The maintenance of Flooring
1)please do not wear the nail shoes or high heel shoes in to order to protect athletes
2)please clean the snow timely after snowing in order to prolong the life of usage
3)please wash the flooring frequently to keep it clean
4)please do not use hard tool with sharp tip knocking at the flooring vigorously in order to protect the floorboard
5)please do not pour the corrosive liquids such as sulfuric and hydrochloric acid onto the flooring to avoid corrode the floor.
We are
a professional supplier and exporter of PP interlocking suspension floor in China
.
Our products are popular at oversea market and exported to 60+ Countries,
ncluding Australia,USA,Canada, South-East Counties (Malaysia, Indonesia, Singapore, Vietnam, the Philippines etc),
European countries( UK ,Spain , Portugal, Belgium etc), South America courties and Middle-East Countries etc.
Our PP interlocking suspension floor are High Quality & Competitive Prices ,
If you need to purchase PP interlocking suspension floor in your projects or you want to do the business of PP interlocking suspension floor, please inquiry us online Now!Good price for your reference!
Free samples can be supplied for you to check our quality!
Application Areas:
Outdoor Basketball court
Tennis
Indoor Outdoor Sports
Multipurpose Sports
Multi-Court Sports
Kindergarten Flooring
Outdoor badminton